The Door County Pond Hockey Tournament returns Feb. 9, 2019. Registration for returning teams opens Aug. 1. New teams may register Aug. 15.
Questions about registration, rosters, and waiver forms should be directed to Registration Director Jordan Burress at jordan@peninsulapacers.com or 920-421-4680. 
Questions about rules, schedules, and game play should be directed to Commissioner Myles Dannhausen at myles@peninsulapacers.com. 
Fortunately, this tournament is in Door County, where there's a ton of stuff to do so it's an easy sell for a family getaway!  And if you're still single – Good for you! Let's do this!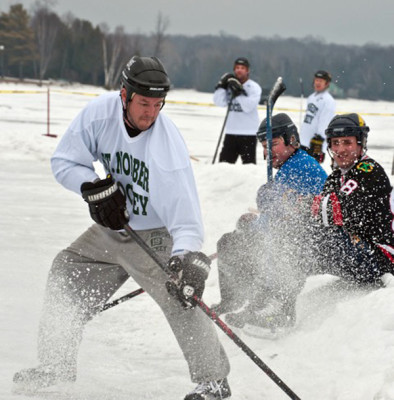 Each team must have a minimum of four players and a maximum of seven. 
Each team is guaranteed to play at least three games, so be ready to skate! All games are played Saturday.
The tournament will include 6 divisions in 2018. Those divisions include:
Men's Open A (Pro, college, or junior level players) FULL
Men's Open B (high school, organized, or recreational players) FULL
Men's Open C (Rookies and recreational players) FULL
Classic (40 and over) FULL
Classic B (40 and over, slowing down) FULL
Legends (50 and over) FULL
Rinks will be cleared on the lake, including one for family and recreational play. A beer and food tent will be erected on the ice as well.
The winning teams will receive the coveted Stanley Thermos Trophy, a growler of Door County Brewing Co. Beer for each team member over 21, and unlimited gloating rights.
Door County Pond Hockey Tournament
Kangaroo Lake, Baileys Harbor
Date:  Saturday, Feb. 10, 2018
Time: 8 am – 4 pm
Check-in is Friday, Feb. 9, from 6 – 9 pm at Door County Brewing Co. Music Hall.
For event questions contact Director Brian Fitzgerald at brian@peninsulapacers.com
For registration questions contact Jordan Burress at jordan@peninsulapacers.com