Registration is OPEN for the Feb. 11, 2023 tournament.
>>2023 DCPH Registration FormFINAL
Questions about registration, rosters, waiver forms and schedules should be directed to Registration Director Jordan Burress at jordan@peninsulapacers.com or 920-421-4680. 
Questions about rules and game play should be directed to Commissioner Myles Dannhausen at myles@peninsulapacers.com. 
Fortunately, this tournament is in Door County, where there's a ton of stuff to do so it's an easy sell for a family getaway!  And if you're still single – Good for you! Let's do this!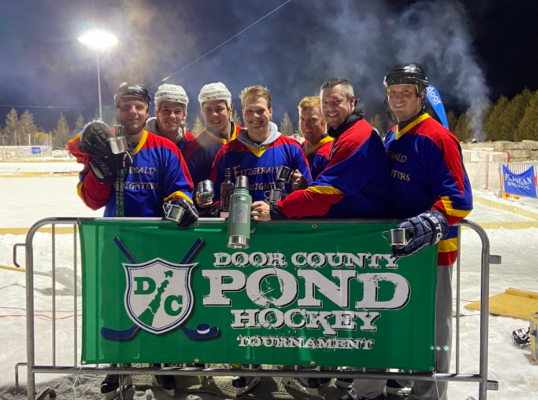 Each team must have a minimum of four players and a maximum of seven. 
Each team is guaranteed to play at least three games, so be ready to skate! All games are played Saturday.
The tournament will include 7 divisions in 2023. Those divisions include:
Men's Open A (Pro, college, or junior level players)
Men's Open B (high school, organized, or recreational players) – FULL
Men's Open C (Rookies) – FULL
Men's Open D (Recreational) – FULL
Classic (40 and over) – FULL
Legends A (50 and over) – FULL
Legends B (50 and over, slowing down) – FULL
Rinks will be cleared on the lake, including one for family and recreational play. A beer and food tent will be erected at the Sports Complex as well.
The winning teams will receive the coveted Stanley Thermos Trophy, a six pack of One Barrel Brewing Company Beer for each team member over 21, and unlimited gloating rights.
Door County Pond Hockey Tournament
Sister Bay Sports Complex
Date:  Saturday, Feb. 11, 2023
Time: 8 am – 9 pm
Check-in is Friday, Feb. 10, from 6 – 9 pm at Dorr Hotel (2329 Mill Rd, Sister Bay, WI 54234)
For event questions contact Director Brian Fitzgerald at brian@peninsulapacers.com
For registration questions contact Jordan Burress at jordan@peninsulapacers.com