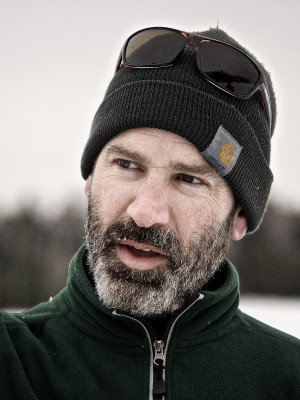 We've been talking about it for years and we finally decided to go for it. The brainchild of Brian Fitzgerald, the Door County Pond Hockey Tournament is the first tournament of its kind on the Door Peninsula.
The event is organized by the Peninsula Pacers, the same group that created the Door County Half Marathon, Peninsula Century Ride, Door County Beer Festival, and which operates the Ride for Nature to benefit the Ridges Sanctuary.
Brian hails from the Twin Cities of Minnesota, where he grew up playing hockey in the great outdoors. The potter and race organizer moved to Door County in 1992 and now owns Ephraim Clayworks in addition to his work organizing races, rides, and events in Door County as well as promotion of the Sister Bay Ice Rink.
Publicity director and fellow organizer Myles Dannhausen is an Egg Harbor native who works with all the Pacers events in addition to his work as a freelance writer. Dannhausen is a contributing editor to the Peninsula Pulse and coached high school basketball for Gibraltar High School for 10 years.
Contact Us
Brian Fitzgerald
920.421.1518
brian@peninsulapacers.com